By Lambert Strether for Naked Capitalism
Kudos to the Democrat-controlled House Rules Committee for scheduling a hearing on HR1384, the "Medicare for All Act of 2019." (Here is the announcement; here are the witnesses). However, readers who suspect my rapture will be modified will not be disappointed. In this post, I won't go into health care industry funding of Democrats, and anti-Medicare for All think tanks and thought leaders; readers who check out those links will be unsurprised. Rather, I'll look at the mechanics of the process: First, the members of the committee; second, the witnesses before the committee; and finally, the next hearing coming up. But first, a word about the House Rules Committee itself, from its own About page:
The Committee is commonly known as "The Speaker's Committee" because it is the mechanism that the Speaker uses to maintain control of the House Floor…. The Rules Committee has two broad categories of jurisdiction: special orders for the consideration of legislation (known as "special rules" or "rules") and original jurisdiction matters. A special rule provides the terms and conditions of debate on a measure or matter, consideration of which constitutes the bulk of the work of the Rules Committee. The Committee also considers original jurisdiction measures, which commonly represent changes to the standing rules of the House, or measures that contain special rules, such as the expedited procedures in trade legislation.

The Committee has the authority to do virtually anything during the course of consideration of a measure, including deeming it passed. The Committee can also include a self- executed amendment which could rewrite just parts of a bill, or the entire measure. In essence, so long as a majority of the House is willing to vote for a special rule, there is little that the Rules Committee cannot do.
(As the Rules Committee page shows, this is an "original jurisdiction" hearing.) Just spitballing here, but I would imagine that whatever fate Pelosi has pre-ordained for HR1384 will be expressed by the rules for debate and amendment under which it comes to the House floor, if indeed it ever does. If the canonical example of originial jurisdiction is trade legislation, the House leadership must have something complicated in mind. From WikiPedia (sorry):
Amendments might only be allowed to specific sections of the bill, or no amendments might be allowed at all. Besides control over amendments, the rule issued by the Rules Committee also determines the amount of speaking time assigned on each bill or resolution. If the leadership wants a bill pushed forward quietly, for instance, there might be no debate time scheduled; if they want attention, they might allow time for lengthy speeches in support of the bill.

Between control over amendments, debate, and when measures will be considered, the Rules Committee exerts vast power in the House.
Now, to the members of the House Rules Committee, Democrats because the Rules Committee operated in party line fashion. Here they are:
Representative
HR 1384 Co-Sponsor
Rep. Mark DeSaulnier (D-CA)
X
Rep. Alcee L. Hastings (D-FL)
X
Jim McGovern (D-MA) (Chair)
X
Rep. Joe Morelle (D-NY)
Rep. Ed Perlmutter (D-CO)
X
Rep. Jamie Raskin (D-MD)
X
Rep. Mary Gay Scanlon (D-PA)
Rep. Donna Shalala (D-FL)
Rep. Norma J. Torres (D-CA)
As you can see, 5 of the 9 members are co-sponsors of HR1384. So we have, in this hearing, a good way to evaluate whether these co-sponsoring Representatives are committed to #MedicareForAll, or just paying lip service. (And if you, readers, are represented by any of these Democrats, it might be worth a call to their office to politely express their views.)
Next, let's look at the witnesses for the hearings. Again from the Rules Committee: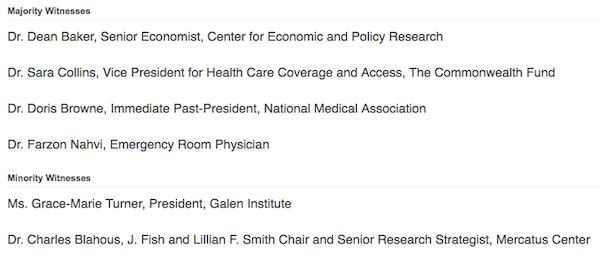 I'll dispose of the minority witnesses quickly. Starting with Grace-Marie Turner of the Galen Institute. From the Institute's mission statement:
The Galen Institute has many plans to counter the march toward government-controlled medicine and shift the debate toward ideas that offer greater freedom and more affordable health care choices.
(Fascinatingly, Turner has grifting since Hillarycare; here is an extensive, though dated, post.) And their funding, from SourceWatch:
So, the usual suspects. And Charles Blahous, in case you have forgotten, is the loon world-renowned, Koch-funded expert who managed to prove that although #MedicareForAll would cost a lot, it would net out positive for the country. Now to the Democrats. Where Republicans, as one might expect, present a unified wall of opposition, the Democrats, as one might also expect, are mushier. Let's look at each of them in turn (and as we shall see, the presences are less interesting than the absences. Witness Ady Barkan was added later; see the UPDATE at the end of the post).
First, Dean Baker. Baker, a well-respected analyst, is not an expert in Medicare for All; indeed, he has written nothing on that topic on his own site, the Center for Economic and Policy Research (CEPR):

(A search on H.R. 1384 yields a similar result.) Further, Baker supports for Medicare for All in principle, sorta, but not this bill. From Counterpunch:
Medicare for All is Doable and Most Americans Want It
Which is a good headline, but:
While a well-designed pathway can get us to Medicare for all, even we can't do it all at once.

For beginners, we can look to lower the age of Medicare eligibility from the current 65 to 60 or even 55 in an initial round. We can also allow people of all ages to have the option to buy into a public Medicare-type system.

We can also look to start getting our costs down. This means lowering drug prices, both by negotiating in the same way as other countries, and directly funding research so that newly developed drugs can be sold as cheap generics.

We should do the same with medical equipment. And we can subject our doctors and dentists to the same sort of foreign and domestic competition that workers in other professions face.

These steps can get us on a path to Medicare for all, on which we will quickly be extending coverage to millions of people, while substantially reducing the cost of care for everyone.

We are smart [there's that word!] enough to be able make the same sort of guarantees on providing health care as every other wealthy country.
Needless to say, HR1384 does not offer a phased approach, and so Baker opposes it. He does support a so-called public option, but that's a different bill. In short, Baker — like, say, Beto O'Rourke — is a "path to" Medicare for All guy, not really a supporter at all.
On to Dr. Sara Collins, Vice President for Health Care Coverage and Access, The Commonwealth Fund. Collins is the creator of "The 'Medicare for All' Continuum: A New Comparison Tool for Congressional Health Bills Illustrates the Range of Reform Ideas" (here is the tool). Collins writes:
The Medicare for All Continuum

To address these problems, some Democrats running for president in 2020 are supporting Medicare for All. Meanwhile, in Congress, Democrats have introduced a handful of bills that might be characterized as falling along a continuum, with Medicare for All at one end.

The continuum of approaches suggests both the possibility of building toward a Medicare for All system over time, or adopting aspects of Medicare for All without the disruption that a major shift in coverage source might create for Americans.

As our new Commonwealth Fund interactive tool illustrates, the bills range from adding somewhat more public sector involvement into the system, to adding substantially more public sector involvement.
(The so-called tool is functionally a table, with the disadvantage, or advantage, that columns in the table cannot be readily compared.) Collins, then, shares Baker's "path to" ideology; she, too, is not a supporter of the bill. She is contributing this #MedicareForAll cycle's version of the familiar liberal Democrat tactic of brand confusion: Labelling a "continuum" by one of its endpoints is clever; it's as if we were presented with the "cooked" continuum, which surprisingly includes frozen food, raw food, partially cooked food, underdone food…. "But frozen food is on the pathway to being cooked!"
Now we come to Dr. Doris Browne, Immediate Past-President, National Medical Association. Now, the National Medical Associated is listed at PNHP as an HR676 supporter, which is good (although a search of their site for "single payer" yields nothing; likewise "Medicare for All," and "1384"). PNHP aggregates an enormous amount of material, but a search on "Doris Browne" turns up nothing. Google searches on "'Doris Browne' 'Medicare for All'", "'Doris Brown' 'HR 676′", and "'Doris Brown' universal" also turn up nothing. Given how crapified Google search is, I'm reluctant to make a judgement either way, but if she does support either #MedicareForAll in general, or HR1384 in particular, her support has not been made visible in venues were I would expect to find it.
Finally, we have Dr. Farzon Nahvi, Emergency Room Physician. Navhi did in fact write the following in the New York Times in 2017: "Don't Leave Health Care to a Free Market":
Republicans need to be honest with themselves and the public: If they want medicine to be truly free-market, then they have to be willing to let the next man or woman they find lying unconscious in the street remain there and die. In a truly free market, we cannot treat someone — and charge someone — without their consent and against their will. If we believe, however, that those lying there in their most vulnerable moments deserve a shot, then we need to push forward with the idea that health care, at its core, must be designed around a caring system that serves all people fairly
And the Rules Committee itself puts Nahvi forward as a Medicare for All supporter:
Next week the Rules Committee will be holding an historic hearing on #MedicareForAll, & Dr. Nahvi is one of our expert witnesses. He's a strong advocate for high-quality universal coverage & #MedicareForAll – we are looking forward to his testimony! pic.twitter.com/S8JIm57iSn

— House Committee on Rules (@RulesDemocrats) April 24, 2019
(Although they slip in "high quality universal coverage," whatever that means.) The Now This video, like Nahvi's editorial, appears to be from 2017 (as does this article, from the Guardian, which also does not mention single payer or Medicare for All). Since it's from 2017, and this is 2019, Nahvi cannot be said to support HR1384.)
We can sum up the views of the witnesses in the form of a table:
Witness
Supports Medicare for All
Supports HR1384
Dean Baker
Dr. Sara Collins
Dr. Doris Browne
?
?
Dr. Farzon Nahvi
X
?
Ms. Grace-Marie Turner
Dr. Charles Blahous
Ady Barkan*
X
X
* Barkan was added a day after the initial list of witnesses; see the UPDATE at the end of the post.
At this point, it's worth noting the witnesses from the last time liberal Democrats tackled health care, in 2009. NEJM editor-in-chief Dr. Marcia Angell:
Next Tuesday's #MedicareForAll hearings remind us of the 2009 hearings in which former @NEJM editor-in-chief Dr. Marcia Angell declared, "the only way to provide universal coverage and to control costs is to adopt a nonprofit #SinglePayer system." #TBT https://t.co/fmMrmK6K9u

— PNHP (@PNHP) April 25, 2019
PNHP board advisor Dr. Walter Tsou:
#TBT to the last time Congress held hearings on #MedicareForAll (in 2009) and PNHP board adviser Dr. Walter Tsou testified that "#SinglePayer is the only reform that can control health care costs." https://t.co/QNbk7SR2Eo

— PNHP (@PNHP) April 25, 2019
Yet, this go-round, there are no single payer subject matter experts whatever, and no supporters [with Barkan, I think, one; see UPDATE below –lambert] of the bill which is supposedly the subject of the hearing. What could have led to such a seemingly paradoxical result? The Rules Committee is "The Speaker's Commmittee," and that's what the Speaker wants. HuffPo explains:
It's unclear who decided which experts would testify before the Rules Committee. Staffers on the Rules Committee say no one in leadership directly told them this person or that person couldn't testify, but sources involved with the planning of the hearing say three criteria were applied to potential witnesses: (1) Is this person a leader of a single-payer group? If so, that person could not testify ― meaning Gaffney was out. (2) Is this person an activist? If so, they couldn't testify. That meant people like Dr. Sanjeev Sriram, who has repeatedly advocated for Medicare for All, were ruled out. And (3) Has this person said anything negative about the Affordable Care Act?

That last requirement, implemented by House Speaker Nancy Pelosi's top health care staffer, Wendell Primus, according to sources, is particularly an issue for some single-payer advocates, because they believe the hearing could turn into an exercise in which witnesses seem to endorse all sorts of different approaches to health care ― the ACA, a Medicare buy-in situation, and perhaps, maybe, Medicare for All.
Wowsers. If they won't let anybody who said anything negative about ObamaCare testify, witnesses will be thin on the ground indeed!
Finally, the next hearing, which is the last scheduled one:
The first Medicare for All hearing in this congressional session will be next week on April 30 in the Rules Committee. The House Budget Committee is also supposed to hold a hearing at some point but the major panels that write legislation do not plan on hearings. @RulesDemocrats.

— Rebecca Adams (@RebeccaAdamsDC) April 23, 2019
How much you want to bet Pelosi uses PayGo to choke off #MedicareForAll in the Budget Committee — perhaps under whatever rule the "the Speaker's Committee" devises for HR1384's speedy dispatch? As I have often said, I believe that preventing #MedicareForAll is the #1 goal of the liberal Democrat leadership. We'll have to see how that proves out. But as of now, it looks to me like they're right on track!
UPDATE
The HuffPo article ("farce") triggered outrage in the #MedicareForAll community (see here, here, here, although most of it, sadly, simply echoes the HuffPo piece; the Baucus debacle in 2010 are only mentioned by an activist on Facebook, which speaks to the weakness of left reporting on this issue; failure of institutional memory is one reason liberal Democrats get away with what they do.) As a result, activist Ady Barkan was added to the witness list. HuffPo once more:
A day after HuffPost reported on the controversy over the lack of pro-single-payer voices at the upcoming hearing on "Medicare for All," the House Rules Committee announced Friday that a hero among single-payer advocates would now also testify: Ady Barkan.

Barkan, who has ALS and is an undisputed champion of Medicare for All, will be a strong voice for a single-payer health care system and will put to bed the concerns of many activists that there wasn't a forceful enough proponent of Medicare for All on the witness panel.

But Barkan is also exactly the sort of champion that Medicare for All proponents wanted to see speaking on the panel.
Apparently, Barkan reached out to Pelosi, and Pelosi gracefully requested McGovern to put Barkan on the panel:
M4A supporter Ady Barkan, who is dying of ALS, will now be testifying at M4A hearing next week

Pelosi spox says he texted Pelosi and asked to testify. She then called McGovern who invited him

(Also comes after this @MEPFuller story) https://t.co/88Hv1aCDNv

— Peter Sullivan (@PeterSullivan4) April 26, 2019
Pelosi also, it would seem, threw out or weakened the criteria originally used — the source of the criteria is hazy — by staff to select witnesses:
Sources told HuffPost that Pelosi's staff and the Rules Committee had applied a certain criteria to any witness: If the person led a single-payer group, was an activist or had said anything negative about the Affordable Care Act, they couldn't testify.

In many ways, Barkan violates all three of the criteria. He is the founder of the Be A Hero PAC, an outspoken activist for single-payer, and while an enthusiastic defender of the ACA, he has also been clear that the law alone is not enough.
To be fair, Barkan supports Medicare for All. From Barkan's Medium announcement:
On Tuesday, for the first time ever, Medicare For All will get a hearing in the United States Congress. I congratulate and thank Rep. Jayapal, Rep. Dingell, former Rep. Conyers and Sen. Sanders for their decades of leadership on this historic day.

"I am grateful to Chairman McGovern and Speaker Pelosi for making this hearing possible and inviting me to testify. Tuesday will be just the latest example of why I worked so hard to help Democrats win back the House in November. The American people have heard the message loud and clear: Republicans are bad for your health.

"I am grateful to Chairman McGovern and Speaker Pelosi for making this hearing possible and inviting me to testify. Tuesday will be just the latest example of why I worked so hard to help Democrats win back the House in November. The American people have heard the message loud and clear: Republicans are bad for your health. to fix the American healthcare system once and for all.
(I interpret "Progressives have a plan to fix the American healthcare system once and for all" to mean that Barkan supports HR1384 as well as #MedicareForAll.) Barkan is indeed a hero; it's no small thing to testify before Congress with ALS. That said, for me, Barkan is not "exactly the sort of champion" I want to see. Barkan, despite his activism, is not a subject matter expert. The Rules Committee — and Pelosi, now that she has shown her hand — has refused to hear any #MedicareForAll activists who can testify authoritatively on how #MedicareForAll will impact the Federal budget (and net out positive for the American people). Not Marcia Angell (former editor of the New England Journal of Medicine). Nor Stephanie Woolhandler (from Harvard Medical School) was not invited to testify on that topic. Nor Gerald Freidman (Professor of Economics at the University of Massachusetts). For a party that fetishizes credentials above all, these omissions are quite remarkable, especially considering that a creature from that citadel of reaction, the Mercatus Center, who published an instantly discredited paper on budget impact, was invited. One can only wonder what the Democrat leadership's motivation could have been, especially considering that liberal Democrat donors and operatives are working together to publish vicious and reprehensible campaign materials like this:
Medicare for all would "produce significant job losses" while delivering "a significant negative shock to the U.S. economy."https://t.co/DwPQO9X90z

— Partnership for America's Health Care Future (@P4AHCF) April 28, 2019
The Congressional forum for "straight answers" is controlled by liberal Democrats, and they're refusing to allow the straight answers to be made, by subject matter experts known to all! It would certainly have been a welcome demonstration of fair play and commitment to the democratic process for liberal Democrats to enable #MedicareForAll advocates to get responses to PAHCF's nonsense on the record, especially in an election year, but n-o-o-o-o-o-o!!!!!